5 Reasons You Still Need a Resident Engagement System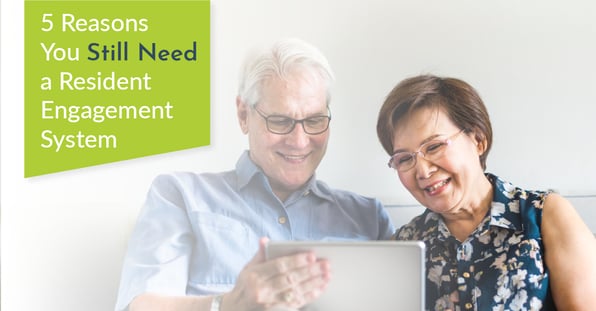 Due to the COVID-19 pandemic, many senior living communities are scaling back events. With limited in-person gatherings and slim calendars, it's easy to convince yourself this isn't the time to splurge on a resident engagement platform. But did you know Viibrant offers a range of benefits that aren't event-based? Here are just a few.
Easily update your digital signage and in-house TV with Viibrant

. Not only does Viibrant offer the ability to customize digital announcements, giving you a consistent brand and feel, it also syncs instantly. These days, it's more important than ever for your residents to have current, accessible information. Our tools make that possible.

The click-to-call resident directory on our mobile app

, helps residents stay connected with one another. Making it easy for residents to contact one another is a simple way your staff can foster community during social distancing.

Viibrant simplifies life for your staff and residents by providing a centralized solution.

Instead of remembering multiple logins, access existing software systems from within Viibrant. Vibrant is fully integrated with PayPal, Google Home, MatrixCare, The WorxHub, CardWatch, Lyft and more.

Our platform can be used with voice technology

, such as Amazon's Alexa, making it easier for residents with visual or dexterity challenges to create dining reservations, call other residents, file service requests, and more.

Viibrant offers real-time analytics

, so that your staff can understand what features and tools are most useful to your community. In a time where it's difficult to get feedback in-person, Viibrant can provide current information about your community's needs.
Oh, and did we mention that you might not even have to splurge? We offer a range of customizable products to meet every community's size and budget. Schedule a demo with our team today!
Get Awesome Content Delivered Straight to Your Inbox!
Posts by topic