How the Times Have Changed: How Technology Has Changed the Job Market & the Senior Living Industry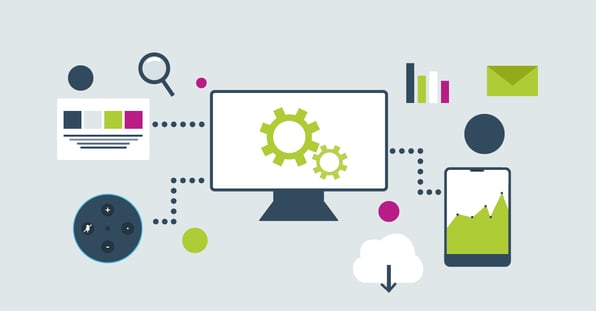 Have you stopped to think about how many jobs there are today that didn't exist just a few decades ago?
After the 1960 census, the United States Census Bureau reported that the top job categories that increased from the 1950 census to the 1960 census were as follows: designers, aeronautical engineers, industrial engineers, mathematicians, psychologists , and technicians. Clerical positions were also popular with increases seen among cashiers, office machine operators, receptionists, and secretaries. Although these jobs are still around today, there are plenty of jobs becoming obsolete with the introduction of certain technologies and automated processes, especially in industries like agriculture and manufacturing.
So how has technology changed the job market today?
According to the Computing Technology Industry Association (CompTIA), the technology industry represents 10% of the nation's economy today with 12.1 million people employed in the tech industry. In the past year alone, 307,000 new technology jobs have been added to the job market. It's one of the fastest-growing industries in the country and across the globe.
There are countless jobs that exist today that weren't even conceivable just a few years ago, let alone decades ago: bloggers, influencers, podcast hosts, content creators, social media managers, IT directors, app developers, UX designers, and so many more. The landscape of the workforce has clearly changed tremendously over time with plenty of room for growth and change in the future.
What does this mean for the senior living industry?
As higher education continues to be a major factor in the shift of the job market, more education programs are forming to cater to specific industry needs, including the senior living industry.
Universities like George Mason, the University of Maryland, and Washington State University all have shaped educational paths for their students to excel as future leaders in the senior living industries. These communities have slowly begun to see the need to expand beyond just administration into other roles that include knowledge of certain technologies and many other skill sets that weren't always required of senior living community workers. The people starting to join the senior living industry now are strong candidates because of their cross-disciplinary capabilities.
What does this mean for Viibrant?
Viibrant alone could not be possible without the advanced technologies of today and the shift in needs for the senior living industry and beyond. Our team of developers, account managers, and others work hard to ensure that our senior living communities stay engaged, connected, and relevant to stand out among other communities and give them the edge they need to continue care for many residents down the road.
Our account managers are experts on our products. They're here to help guide our communities to grow and streamline processes in ways they couldn't imagine without Viibrant technologies. We're thankful that the changing times have allowed us to develop a solution for our communities with the support of every team member at Viibrant.
Contact one of our team members today to learn more about how a dedicated account manager can help your community's management dashboard and resident interface come to fruition.
Get Awesome Content Delivered Straight to Your Inbox!
Posts by topic