Socially Distant Ways to Spark Community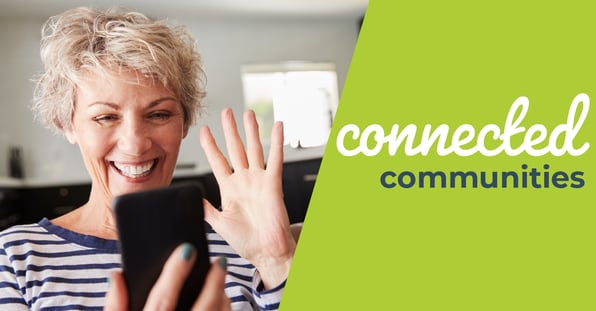 One of the hardest things about the Covid-19 outbreak is how isolated everyone has had to be. For members of a senior living community, who are used to interacting with each other and participating in community activities, social distancing can be even more difficult.
Luckily, there are plenty of ways residents can stay connected with each other while maintaining social distancing guidelines and protecting their own health. Here are a few of our favorites!
1. Start a weekly e-newsletter or community column.
Help your residents keep up with each other's thoughts and lives by starting a weekly in-community e-newsletter. Send a prompt each week and let your residents write in a short response.
Example Prompts:
Write about a favorite memory. Why is it special to you? What do you remember most clearly about that day?

Describe the view from your window. What do you see?

What is something that brings you joy during this time? What are you grateful for?
After you've gathered responses, send them out for everyone in your community to read using Viibrant's Web Portal. Your residents will be able to share their thoughts and stories with each other in a new, creative way.
2. Leave encouraging notes along walkways.
If your community currently allows residents to take walks or sit outside, they may be missing the ability to talk with others while doing so. To help them feel less isolated, and to encourage healthy exercise among your community, leave encouraging notes along the pathways that residents can read as they walk. These can be inspirational quotes or simply messages of encouragement from other members of the community.
3. Set up window visits
Many communities are limiting visitors and even interaction between residents due to Covid-19. Thankfully, one safe way residents can interact with family and friends is through a cracked window, 6-ft apart. Find a space on the first floor of your facility that can be converted into a "window-visits" room, and schedule friends and family for short visits with residents. Fighting isolation one window at a time!
4. Play games online.
Popular apps like "Words with Friends" and "Checkers with Friends" allow residents to play their favorites games together virtually. If you want to make things a little more interesting, why not create a community "March Madness" bracket where residents play one another for a grand prize? You might even be able to recruit some residents to report on the tournament each day. Use Viibrant's in-house TV feature to keep residents informed.
However your community is staying connected during this time, Viibrant wants to help. From custom food orders to Alexa integration, connecting senior living communities digitally is what we're best at. In fact, we're offering a 90-day free trial of Viibrant Xe right now — check it out!
Get awesome content delivered straight to your inbox!
Posts by topic