Keeping Your Community Informed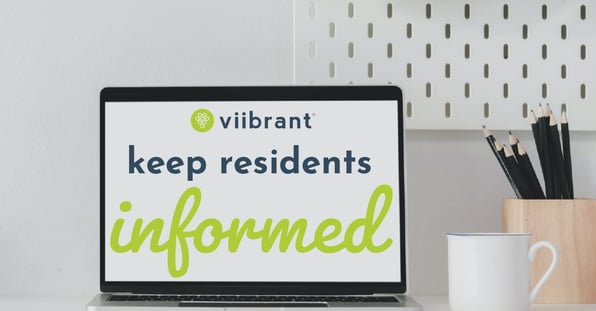 During this time, your residents are probably feeling scared and a bit overwhelmed. The Covid-19 pandemic is a rapidly changing situation, and there are multiple voices competing for their attention. Between state guidelines, in-community communication, and information from family and friends, it's easy to get confused.
It might seem simple, but one of the best ways to minimize anxiety is by providing information. Open, consistently-updated communication isn't just helpful for residents: it allows your community to function better as a whole.
Here at Viibrant, we've been helping senior living communities disseminate information for years. Here are some of our favorite ways to keep your community on the same page.
Using the Viibrant web portal, create a dedicated Covid-19 web page where residents can see all of your current community precautions and guidelines. At the top of the page, put a time-stamp as to when the page was last updated. This will help your residents know how current the information is.
Scrolling Announcements on in-house TV
Did you know that our digital signage allows you to customize your in-house TVs? You can add a scrolling announcement to immediately let residents know about any updates to your Covid-19 guidelines.
Viibrant is fully integrated with Amazon's Alexa. That means that Alexa can relay community announcements, connect residents with one another via interactive directories, and even talk about calendar events. Utilizing Alexa ensures that residents with visual and dexterity challenges are able to stay informed.
Providing clear, accurate information is just one way you're helping the communities you serve. Providing you the right tools to do it? That's our job. We'll get through this together.
Is there a way we could better serve your community? Want to tell us a story about how Viibrant has helped your residents during this pandemic? Drop us a line at the "Contact Us" form below!
Get awesome content delivered straight to your inbox!
Posts by topic