Industry-leading FullCount Integration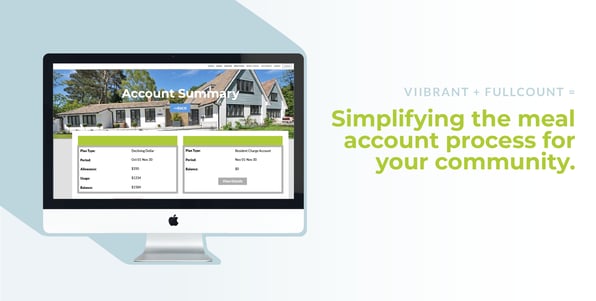 FullCount + Viiibrant = simplifying processes for residents and staff
At Viibrant we work with our partners to make life easier for the communities we serve. With our industry-leading FullCount integration, we have simplified the resident meal account experience for the best user experience possible.
What makes the FullCount + Viiibrant integration leading within the senior living industry? Well, let us fill you in!
No more logging in to multiple platforms to see dining account information. When residents log into the portal they will be able to click a button and see their latest account information. Navigating to several different sites can be overwhelming and some residents may give up. With our FullCount Integration, it's as easy as going to your portal URL and selecting the "Account Balance" button to see your latest meal account balance and transactions.
Ability to see transaction history. Not only can residents always see their latest meal account balance, but they can also track their transaction history, like a bank account!
Residents only have to navigate to one site. That's a lot easier for less tech-savvy residents! Not only does it simplify the process for residents, but also saves time and helps simplify the process so it is even easier for the resident!
Added convenience for residents! Simplifying processes, providing the most up to date account balance and transaction history, and admins only having to manage one site.
Let's discuss how we can help simplify your resident engagement process today! Schedule a demo with one of our industry experts.
Get awesome content delivered straight to your inbox!
Posts by topic