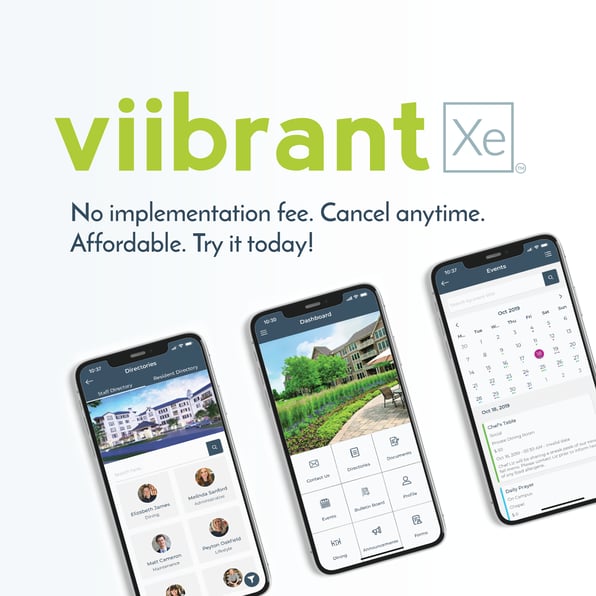 If you were in attendance at this year's LeadingAge annual conference, you may have stopped by the Viibrant booth and gotten a first-hand glimpse of our new ready-to-use resident engagement mobile app, Viibrant Xe. If you missed out, no worries! Let us walk you through why Viibrant Xe is the premier resident engagement mobile application on the market today.
Several note-worthy cutting edge features that set Viibrant Xe apart are: it's affordability, it's self-manageability and it's capacity to manage multi-sites!
Affordable
Has cost hindered your community from moving forward with a resident engagement solution? No need to delay any further. With no implementation fees or deposits, the ability to cancel anytime and your first month free! Viibrant Xe is the no-risk, high reward solution at your fingertips.
After your free month trial, cost is minimal! If you are a multi-site community looking to manage several communities in one seamless dashboard, we have the enterprise solution that is only $399/month + $50/month for each additional community you add on. Just looking for single-community management? No problem. Get started with one community for only $199/month.
Add on to the enterprise level or cancel anytime. You won't be hassled for expensive fees, renewal or adding additional features.
Management capabilities
With Viibrant Xe, you will have access to unparalleled management capabilities. With so much going on in our day-to-day lives, your community's portal on your own time is critical to your resident engagement. Display content when and how you want residents to see it. Turn on and off features in order to display what your community wants residents to engage with. We provide extensive online training documentation to help you through every step of the way when building your custom portal. Building your community's portal has never been easier.
Enterprise
Senior-living communities come in all shapes and sizes, from individual communities all the way to an enterprise of 15 communities. Through our enterprise management tool you have the capability to manage all communities through one easy-to-use dashboard.
All communities can be managed from the enterprise level, and each community will only have access to their individual community. Our unmatched management capabilities to oversee your enterprise make Viibrant Xe the leading resident engagement mobile application on the market.
So, why Viibrant Xe?
Cost-effective
Managed by you – at your own pace, on your own time
Enterprise management – manage multi-sites in an easy-to-use dashboard
Get awesome content delivered straight to your inbox!
Posts by topic