Press release: Viibrant selected to provide "Ask Alexa" kiosks at LeadingAge Annual Meeting & EXPO 2018‎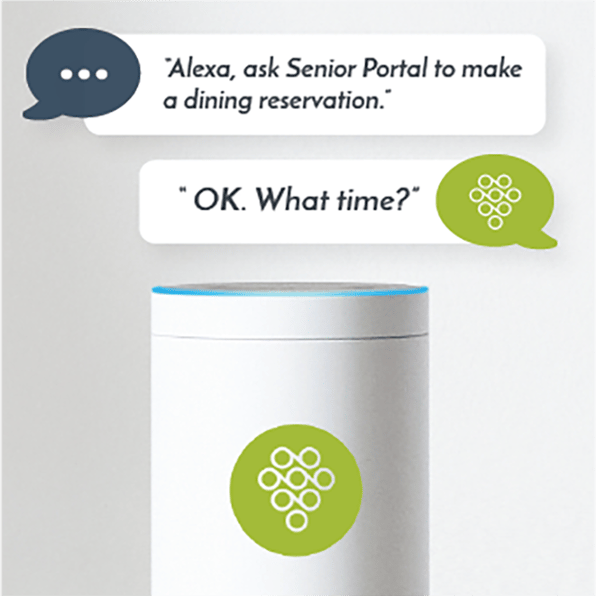 FOR IMMEDIATE RELEASE
Contact: Gina Miller

Marketing

Viibrant

Phone: (843) 227-0480
Email: gina@Viibrant.com
Viibrant selected to provide "Ask Alexa" kiosks
at LeadingAge Annual Meeting & EXPO 2018‎
Find out what all the talk is about
[Carrboro, NC, August 2018]: Viibrant, a leading provider of customized, voice-activated resident engagement systems for senior living communities, has been selected to voice-enable the LeadingAge Annual Meeting & EXPO, which will be held on October 28 – 31 in Philadelphia, Pennsylvania. "Ask Alexa" customer service kiosks will be placed around the convention center and the expo hall, and attendees will be able to converse with Alexa about the conference schedule, the EXPO directory and social media.
The mission of LeadingAge is to be the trusted voice for aging. The 2018 LeadingAge Annual Meeting & EXPO will bring together dedicated professionals to exchange ideas, explore new strategies and master the latest best practices all while reigniting commitment and dedication. It's an opportunity to engage directly with colleagues to share, inspire and learn from one another over the course of four productive days. Given that voice technology is of tremendous value to the senior population, it's going to be especially powerful to experience Alexa in action.
As Patrick Smith, President of Viibrant explains, "Here at Viibrant, we've understood the potential of voice technology in the senior space for some time now. We've seen firsthand the impact of this technology within the senior living communities with which we work. According to the recently released Smart Audio Report from NPR and Edison Research, 43M people over the age of 18 in the US own smart speakers, including 22% of Americans, age 55 and older. Voice technology is open to everyone, and we want to make sure that residents and staff, including those with impaired vision or other limitations, can leverage the power and ease of getting information and accomplishing tasks via simple voice commands. We're therefore very excited about the opportunity to provide the 'Ask Alexa' kiosks at LeadingAge 2018."
About Viibrant: Viibrant is a resident engagement platform for senior living communities. It simplifies the completion of tasks such as dining reservations, event registration and service requests, and it encourages connection and engagement through an easy-to-use, highly customizable platform. Learn more at seniorportal.com.
###
If you would like more information about this topic, please contact Gina Miller at (843) 227-0480 or gina@Viibrant.com. For more information about the LeadingAge Annual Meeting & EXPO, please visit the LeadingAge annual meeting website.
Get awesome content delivered straight to your inbox!
Posts by topic