What Can We Build For Your Community?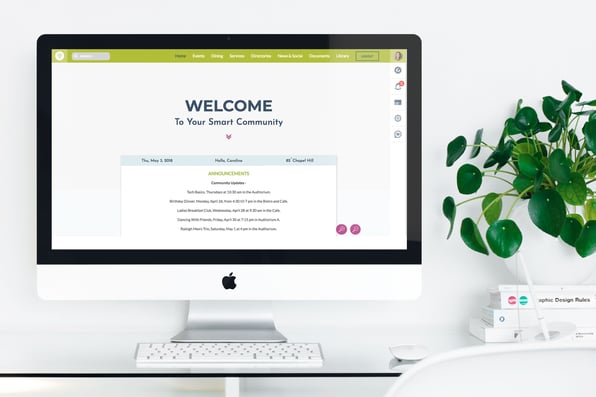 Think back to a time when your Life Plan Community operations were humming along.
…It was a magical feeling as the community functioned in an interconnected, efficient fashion. Stuff got done, and it got done quickly. People were happy, living life to the fullest.
When residents needed information, to place requests, they found everything online. Many delighted in the ease of voice technology and never even had to touch a keyboard or phone.
Oh, how wonderfully organized everything was! And there was hardly any paper in sight. Systems were integrated, and people were integrated, as the technology provided another way to connect and build harmonious relationships.
Things felt well-oiled and under control, and your community was engaged and thriving. This allowed you to focus on the reasons you got into this line of work to begin with – to care for people and make them happy, and to grow your community as a result.
Or, at least, that's how it should be.
It rarely is. Instead, the operations and communications within Life Plan Communities are often chaotic, disorganized and hectic. Many days are bogged down responding to various frustrations. But this doesn't have to be your reality.
It's time to realize the benefits of tailored technology that simplifies process and connects and empowers staff and residents.
Senior living communities are active. They're vibrant ecosystems of residents and staff interacting with one another to get things done and to enjoy themselves in the process.
Countless activities take place within the community on a daily basis. Wouldn't it be nice to use technology to automate these tasks and eliminate all the time-consuming back-and-forth?
We're not talking about mere displays on TV screens. Nor are we talking about cookie-cutter systems that cannot be customized to fit your community's unique needs.
Instead, we're talking about a comprehensive online, configurable platform for community management that streamlines operations and resident engagement. We're talking about a one-stop platform for automated forms, requests and interaction, a resident-centric system that can even be controlled through voice commands due to integration with Amazon's Alexa, a customized solution to match your community's unique identity and needs.
We're talking about…Viibrant.
In this day and age, residents appreciate the efficiencies and connections that result from powerful technology. Residents, in fact, rank technology among the most important considerations when evaluating senior living communities.
See for yourself why one of our customers had this to say: "Viibrant has come up with many creative ways to customize our portal, making the site easier to operate and better for our members. They're professional, friendly and responsive. We've been very impressed with their level of expertise and customer service. A great company to work with!" (Galen Miller, IT Director, The Cypress of Hilton Head)
What can we build for your community?
Get awesome content delivered straight to your inbox!
Posts by topic